WordPress Website Development
Get the Site You Need, Not a Site You're Stuck With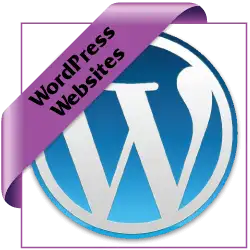 The days of asking, "Do you have a website?" are long gone. Now the question is, "What's your website address?" It doesn't matter if your business is in Colorado Springs, CO or Colorado City, AZ; having a custom website is just as important as having a business card. The good news is that along with this need comes a tool to make building and maintaining your custom website easier than ever.
Once upon a time you needed a website developer to build your website using expensive, hard to learn, software. You also had to pay your website designer to make any and all edits to your website. Your only alternative was using a boxy template that may or may not work with your branding. Today, thanks to WordPress, you have a lot more options to choose from when it comes to building your business' website.
Not just for blogging anymore:
WordPress is one of the greatest tools for the online marketing of small businesses since the invention of e-mail. Gonzo Strategies does all of our website development in WordPress. While we can built your website the old fashioned way, over 95% of our clients are better suited to using the WordPress platform.
The Gonzo approach to website development:
Just like all of our other services, we start by developing a strategy for your website. Too often, businesses jump straight to the design phase without thinking through the site. This is a lot like trying to build a house without a blueprint. It usually results in a website that lacks the functionality you need, or just as bad, you build a site too big for your business.
By developing your website strategy, we're able to make sure the site is built with your end result in mind. We develop your website so it can be scaled up to meet your needs as your business grows. We are able to guide you in the selection of images and the creation of content to make your site appealing to your target market. (FYI: most website developers do NOT create or edit website content, but we do.)
Our website development projects include:
Website strategy to ensure your site will incorporate everything you need.
Editing content you supply for marketing, branding, & SEO impact.
Sizing, formatting, and tagging of your images.
Setting up your domain, hosting, and WordPress installation.
Customization of a premium WordPress theme to work with your branding.
Use of a "responsive design" theme whenever possible.*
Connection to your social media accounts and other online marketing.
Installation of plug-ins to help your search engine rankings.
Training on the WordPress platform so you'll know how to maintain your site.
30 days of free maintenance after you site goes live (paid maintenance after after that.)
Gonzo Strategies also offers a list of add-on services to make your site more visible to search engines and work seamlessly with your other online marketing. If you just need help with your website content or graphic work, we can take care of that too.
*Responsive design means that your WordPress theme will adjust and arrange itself to fit the device on which it's viewed. As more and more people view the web on mobile devices this has become important than ever before.
Gonzo is a "branding whisperer". He has the rare talent of seeing a company's true essence and distilling their uniqueness into messaging that clearly communicates value to potential customers. There are plenty of graphic designers that can throw together a logo, but very few that will truly listen to you - then see your full potential and what makes you remarkable.
I would highly recommend Gonzo Strategies for any kind of promotional or creative ad work. He takes the time to get to know you and your product or service and does research on his own to bring you new and fresh ideas in whatever field you may be in. Gerry has a wide range of experience in his back ground and has been a blessing to me and my business.
Gerry Rubendall with Gonzo Strategies has the most creative mind I know. I have told him the idea for my last two book covers and he has perfectly captured my ideas. I would recommend him for any of your graphic work and just for creative advice on whatever project you are working on.
Gerry/Gonzo Strategies designed a web site for my new business that exceeded my wildest expectations. From our initial meeting where I tried to explain my business and philosophy, he listened to what I said and designed my site to fit my business. I received calls from the very first day that the site went live. I consider that a smashing success...
I could not be more pleased with my experience with Gonzo Strategies! Gerry was professional, efficient (fast), effective (knew how to put my wants into words), and above all, patient. He developed all my marketing materials, created an impressive and appropriate logo for my counseling business, and found the word to say what I couldn't. I would recommend Gerry in a heartbeat.