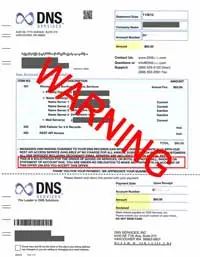 I'd like to tell you, and warn you, about a little marketing scheme (scam) that was attempted on a couple of my clients. While I had to admire the company's nerve – in the same way I admire the Kardashians (i.e. I'd never do anything even close to what you did, but you made a fortune doing it – so good for you.) what they're doing is very wrong. Everyone who owns a website should get a head's up on this one.
Two of my clients have almost fallen for this sneaky little scheme so I would bet that if you have a website you could be in danger of falling for it too.
A few months ago one of my clients called and told me that she'd gotten a bill from a company called DNS Services related to her website hosting. She asked if she needed to pay the bill or, since I manage her website, if I'd already taken care of it. The name of the vendor was a name I'd never seen associated with her account. But since she had set up her domain, hosting, and several other back-end pieces of her site before I started building it; I asked her to send it to me so I could take a look.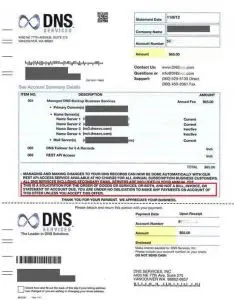 She sent me the "invoice". It had all the details for her site, including the DNS settings for their hosting, and settings for her e-mail servers. At first glance it looked like she owed the company for their services – looked like any other invoice. But it still didn't seem right to me so I read it line by line.
The picture to the right shows what she received. Mixed in with the details, in a way you would never see it unless you read very carefully, was the line "This is a solicitation for the order of goods or services, not a bill or invoice." In other words, if you pay it you're electing to purchase their services. When I tried to go to their website so see what these services are supposed to be my virus protection warned me not to go to their site.
A little more digging discovered that this company has 108 complaints against it with the Better Business Bureau, and has failed to respond to 106 of them.
Last month another client called and said she'd gotten the exact same "bill" and asked if she needed to pay it. Like I said, I admire their nerve, but their tactics are far from ethical. What they did was pull information from the WHOIS database – a sort of telephone directory for websites. Website builders use this information on a regular basis to assist our clients with setting up their sites and researching the availability of domains, but just like any other tool on the Internet, someone has found a way to exploit it and make a few bucks. Since the amount of the invoice is relatively small, I'm sure a lot of companies just pay it without thinking twice.
If you ever get anything in the mail or e-mail related to your site that you don't recognize, don't do anything until you talk to your web developer. They can tell you what you do and don't need for your site. If you built your own site do a little digging before you cut a check or hand over your credit card number. A little effort beforehand could save you a lot of headaches in the long run.