Marketing Materials and Marketing Collateral
Keep Your Branding On Their Minds When They're Offline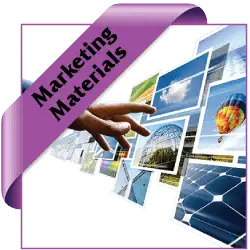 To get through to your audience and reinforce your branding you need to touch them on multiple fronts so you stay "top of mind." While online marketing has to be a key component in today's marketplace, marketing materials (aka marketing collateral materials) are necessary to promote your company's products and services in the offline world.
Marketing materials go beyond the traditional tri-fold brochures and postcards. When used properly, your marketing materials help you: introduce new products, promote new services, introduce loyalty programs, and more. Gonzo Strategies doesn't just create your marketing materials, we help you come up with a plan to use marketing materials effectively and get the most out of them.
Some of the marketing materials Gonzo Strategies creates for you include:
Tri-fold brochures
Postcards
Direct mail pieces
Flyers
Media kits
Packaging
Sales letters
And more
Gonzo is a "branding whisperer". He has the rare talent of seeing a company's true essence and distilling their uniqueness into messaging that clearly communicates value to potential customers. There are plenty of graphic designers that can throw together a logo, but very few that will truly listen to you - then see your full potential and what makes you remarkable.
I would highly recommend Gonzo Strategies for any kind of promotional or creative ad work. He takes the time to get to know you and your product or service and does research on his own to bring you new and fresh ideas in whatever field you may be in. Gerry has a wide range of experience in his back ground and has been a blessing to me and my business.
Gerry Rubendall with Gonzo Strategies has the most creative mind I know. I have told him the idea for my last two book covers and he has perfectly captured my ideas. I would recommend him for any of your graphic work and just for creative advice on whatever project you are working on.
Gerry/Gonzo Strategies designed a web site for my new business that exceeded my wildest expectations. From our initial meeting where I tried to explain my business and philosophy, he listened to what I said and designed my site to fit my business. I received calls from the very first day that the site went live. I consider that a smashing success...
I could not be more pleased with my experience with Gonzo Strategies! Gerry was professional, efficient (fast), effective (knew how to put my wants into words), and above all, patient. He developed all my marketing materials, created an impressive and appropriate logo for my counseling business, and found the word to say what I couldn't. I would recommend Gerry in a heartbeat.