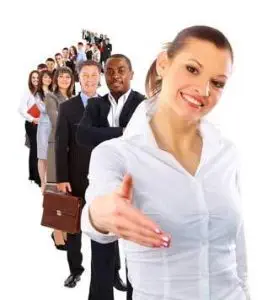 People who attend an expo or tradeshow don't usually plan to buy at the show.  You probably won't leave the show with a fistful of cash, but exhibiting at a show gives you a unique opportunity to connect with your target audience because they've made a special trip to find businesses just like yours.  But they aren't necessarily looking for you – they're looking for everyone at the show who provides similar products and services.  If an attendee stops and talks to you, they're probably going to talk to your competition, too.
If you want to turn them into customers you need to do more than just chat with them at the show.  One of the biggest mistakes you can make is to assume your show contacts will call you.  In fact, left on their own, a lot of the people you talk to probably won't even remember who you are when they get home.
So how do you convert those contacts into sales?  It's as easy as using a simple piece of paper know as a "lead card."  The lead card helps you:

Prioritize your contacts
Keep your name in front of them after the show
Remind them of the solutions you provide
Decide when to follow-up so you don't miss a window of opportunity
Track their buying influences
And more
Using a lead card focuses around two questions you need to ask each person you talk to.  The first question is called the "icebreaker."  It may seem like a throwaway question, but there's a strategic reason for using it.  Your icebreaker should be casual and specific to the attendee.  If an attendee is loaded down with bags you could say something like "Looks like you could use a rolling suitcase."  If someone is wearing comfortable looking shoes you could say something like, "Looks like you planned the right shoes for walking a show."  Etc.
The second question is "the qualifier."  This is the most important question of the day.  Every person who enters your booth needs to be qualified to determine if they are a potential customer.   If your services are b2b (business to business) you could ask, "Do you own a business?"  If you do remodeling the question could be, "Do you own your own home?"  You ask this question early in the conversation to determine how much time you should spend talking to them.  If they don't qualify as a potential customer, you point out some of the things you're showcasing in your booth or point them to a drawing you might be having; whatever you need to do to move them along.  You don't want to be dismissive (they might be a prospect at a later date), but you don't want to spend a lot of time with them.
If they pass the qualifier test – that's when you bring out the lead card.  My example here is very generic.   You should customize it to fit your exhibit.  You fill in side one while you're talking to them & side 2 after they leave the booth.  Here's how it works & why each piece is important:
Section A
This is pretty self-explanatory. If you have multiple people working the show, the person filling out the card should identify themselves in the "rep" section to make sure they are the ones following up with the prospect. If you are having a drawing (which I highly recommend doing) you only need to put the name in the "contact info" section. You can match up phone, e-mail, etc. with the entry form they use in the drawing.
Section B
Determine how soon they'll need your services. This also helps you prioritize you follow-up schedule. If they are in need of your services now, you want to make sure they're at the top of the list. Use the notes area to list any specific details related to the time they'll need you (after the holidays, after tax season, etc.)
Section C
You don't want to follow-up with someone by e-mail if they rarely check it. You should tell them when you plan to follow-up and put the date here. This helps your credibility & keeps you on track. You've told them you'll be in touch by a specific date & when you contact them you're fulfilling a promise. It can be hard to get them to give you an idea about their budget, but you should try to get some sort of number- even if it's a general range. When you follow-up with them you want to make sure you're presenting things they can afford. If the information you send them is too far out of their price range they'll think they can't afford anything you have to offer.
Section D
The category is very important. Just like the timeline, it helps you prioritize. "A" means they're a hot prospect, deserving a lot of attention. "B" means there's potential, but it might take more effort. "C" means that after you got more information from them, you realized they probably aren't a great prospect. However, they still passed the qualifier question so there's still potential. Where an "A" might get a letter with a handwritten note, a "C" might get an e-mail.
Section E
I'm not a big fan of handing out a lot of expensive literature at a show (it usually ends up in the trash.) It's much better to send literature directly to the attendee. People are bogged down with all the other stuff they pick up. If you add yours to the pile, it's going to get lost. The better bet is to offer to send them your literature/samples. This gives you another reason to get their contact info. Just like the follow-up date, you make a promise and deliver on it – increasing your credibility in the eyes of the prospect.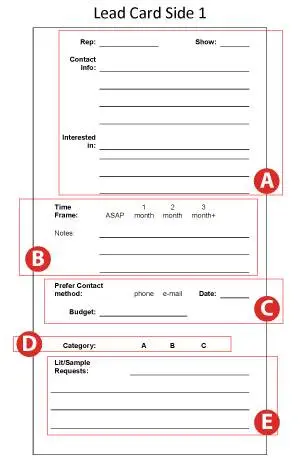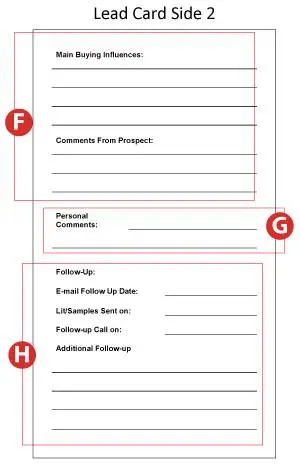 Section F
Making a sale is all about "finding the pain" and taking it away. This section helps you track where their pain is coming from. You should note the things important to them, problems they've had with your competitors, things they like about your competitors, etc. This information helps you tap into the key emotions related to their buying decisions
Section G
Remember how I told you the "icebreaker" was going to be important. This is where you use it. Make a note of the icebreaker comment & your prospects reply here. You do this so you can personalize your follow-up calls/letters. Use in the first part of the letter or mention it at the beginning of the call. If you commented on them having comfy shoes, your comment could be something like, "Did those shoes keep you comfy the rest of the day?" By using the icebreaker in your follow-up you accomplish two things. First, you're saying you remember them as an individual, not just another person who went through your booth. Second, you remind them of your conversation, helping them to remember everything you talked about so they don't confuse you with a competitors they might have met at the show.
Section H
Use this section to track your follow-ups and their progression through the sales funnel. You can add the lead card to their file, or enter all the information into your customer management database.
Use a lead card whenever you exhibit. You'll see how a simple piece of paper can turn people who talk to you into people who pay you.