The driving force behind Gonzo Strategies marketing strategies & branding services:
Branded as the "marketing guy in jeans" or "the creative branding expert" by his clients and colleagues, anyone who knows Gerry will tell you he's the guy with marketing in his blood. He instinctively spots the marketing opportunities missed by others and comes up with cost-effective ways to maximize those opportunities on the fly. A co-worker named him the "Creativity Czar", but it wasn't appropriate to put on a business card at the time – now it is.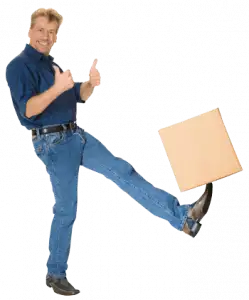 Gerry's marketing career began when he started a promotional marketing company in 2002. He grew his company and merged it with an agency in 2006, but wanted to provide more support to small businesses than agency life allowed. He left the agency to follow his passion of supporting small businesses in the non-profit sector, but it was only a matter of time before Gerry's entrepreneurial spirit had to reemerge. He launched Gonzo Strategies in 2010. With Gonzo Strategies, he's created a business that not only creates marketing for his clients but teaches them the "why" behind the "how" so they can become more independent when it comes to making decisions about their marketing.
Taking a cue from the concept behind Gonzo Journalism, Gonzo Strategies puts a new spin on how businesses communicate with their audience. It uses a combination of: neuromarketing techniques, new media, strong marketing strategies, comprehensive branding strategies, and a big helping of creativity.
In addition to running Gonzo Strategies, Gerry is a regular speaker and member of the strategic team at Knowledge for Success, a non-profit organization dedicated to teaching potential and existing business owners how to turn their dreams of owning a business into reality.
Gonzo is a "branding whisperer". He has the rare talent of seeing a company's true essence and distilling their uniqueness into messaging that clearly communicates value to potential customers. There are plenty of graphic designers that can throw together a logo, but very few that will truly listen to you - then see your full potential and what makes you remarkable.
I would highly recommend Gonzo Strategies for any kind of promotional or creative ad work. He takes the time to get to know you and your product or service and does research on his own to bring you new and fresh ideas in whatever field you may be in. Gerry has a wide range of experience in his back ground and has been a blessing to me and my business.
Gerry Rubendall with Gonzo Strategies has the most creative mind I know. I have told him the idea for my last two book covers and he has perfectly captured my ideas. I would recommend him for any of your graphic work and just for creative advice on whatever project you are working on.
Gerry/Gonzo Strategies designed a web site for my new business that exceeded my wildest expectations. From our initial meeting where I tried to explain my business and philosophy, he listened to what I said and designed my site to fit my business. I received calls from the very first day that the site went live. I consider that a smashing success...
I could not be more pleased with my experience with Gonzo Strategies! Gerry was professional, efficient (fast), effective (knew how to put my wants into words), and above all, patient. He developed all my marketing materials, created an impressive and appropriate logo for my counseling business, and found the word to say what I couldn't. I would recommend Gerry in a heartbeat.
Custom Solutions for Your Business
Because Gonzo Strategies creates customized marketing solutions for each client, it's not possible to list everything we do on this site. We're constantly developing new ways to give you the most for your marketing budget and exploring new mediums and tactics to give you an edge over your competition. The best way for us to explain what we can do for you is by meeting with you and exploring the options available to your company. E-mail Gonzo Strategies or call us at 817-228-2120 to set up your free initial consultation and find out how Gonzo Strategies can give you more bang for your marketing buck.