Copywriting & Website Content
Balancing Your Words and Pictures to Make the Sale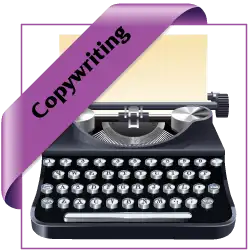 If you've ever worked with a website designer or a graphic artist creating an ad for you, you've probably heard the following sentence: "I'm ready to go as soon as you give me your content."
Traditional web designers and graphic artist are great at creating beautiful things, but they don't usually write words to go on the pages. One graphic artist and web developer even told us, "I'm a graphic artist. I don't go near words." His design work is excellent, but you couldn't use him as a complete solution for branding and marketing. You would need to hire another person. Unless, of course, you go Gonzo.
We love to write content, because we know content is what makes the sale.
Images are meant to attract your audience's eye, but the words on the page convince them to buy. Without the right words you have all style, and no substance. The style only approach may look great in the designer's portfolio, but it does nothing to add to your bottom line.
Finding the right balance between words and pictures is a challenge we love to tackle. When it comes to writing website content and creating copy for your marketing, Gonzo Strategies takes a unique approach. We create a virtual character to mirror your target audience. Thinking like your target audience character allows us to put things in perspective the same way they do, and react the way they would.
This form of Gonzo marketing strategy gives your marketing a voice that reinforces your company branding and appeals to your target market. It guides us through all of your marketing efforts so you always know what to say to your audience.
In addition to writing website content, Gonzo Strategies writes:
Bios for social media profiles
Elevator (networking) commercials
Articles
Marketing collateral (marketing materials like brochures, postcards, flyers, etc.)
And more
Gonzo is a "branding whisperer". He has the rare talent of seeing a company's true essence and distilling their uniqueness into messaging that clearly communicates value to potential customers. There are plenty of graphic designers that can throw together a logo, but very few that will truly listen to you - then see your full potential and what makes you remarkable.
I would highly recommend Gonzo Strategies for any kind of promotional or creative ad work. He takes the time to get to know you and your product or service and does research on his own to bring you new and fresh ideas in whatever field you may be in. Gerry has a wide range of experience in his back ground and has been a blessing to me and my business.
Gerry Rubendall with Gonzo Strategies has the most creative mind I know. I have told him the idea for my last two book covers and he has perfectly captured my ideas. I would recommend him for any of your graphic work and just for creative advice on whatever project you are working on.
Gerry/Gonzo Strategies designed a web site for my new business that exceeded my wildest expectations. From our initial meeting where I tried to explain my business and philosophy, he listened to what I said and designed my site to fit my business. I received calls from the very first day that the site went live. I consider that a smashing success...
I could not be more pleased with my experience with Gonzo Strategies! Gerry was professional, efficient (fast), effective (knew how to put my wants into words), and above all, patient. He developed all my marketing materials, created an impressive and appropriate logo for my counseling business, and found the word to say what I couldn't. I would recommend Gerry in a heartbeat.