Welcome to Notes from Beyond the Boxes.
The bulk of this blog is about marketing and branding; more specifically Gonzo-style marketing and branding.  So if you're looking for a blog on Icelandic poets from the 17th century you'll have to look somewhere else. Similarly, if you're looking for a stuffy agency using the latest "corp-speak" buzzwords you should hit your back button now.  However, if you're looking for marketing info you'll find useful and fun to read, ways to trim your costs without sacrificing quality, and info to help you brand your business without breaking your bank account – stick around.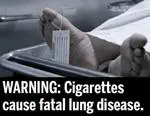 It's only fitting my first topical blog post relate to the study that interested me in Neuromarketing. It illustrated the major disconnect between what a person believes they are thinking & what their brain is really doing. In November 2010 the US Department of...
read more